The National Seed Trade Association of Ghana (NASTAG) with support from AGRA is implementing part of the activities under the Ghana Inclusive Agricultural Transformation (GIAT) programme; "Strengthening the Ghana Seed System to Enhance Quality Seed Delivery to Farmers" aimed at delivering high quality certified seeds of hybrid maize, cowpea, groundnut and soybean to smallholder farmers in Northern Ghana to increase their production as well as their income.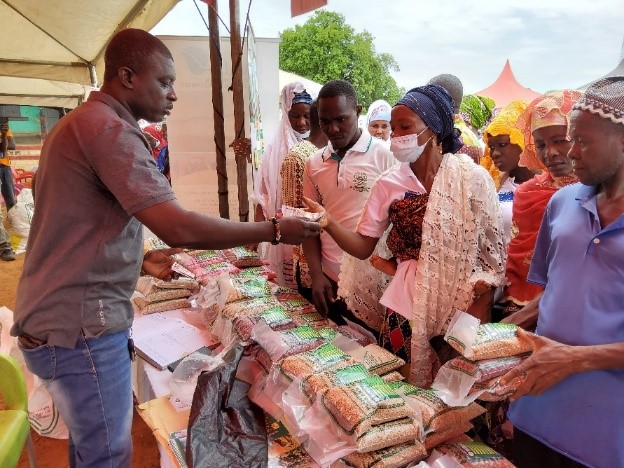 As part of the project's activities, NASTAG in collaboration with the Ministry of Food and Agriculture (MoFA) organized Seed and Inputs Fairs in four locations namely Sawla in the Sawla Tuna Kalba district, Wa in the Wa Municipality, Tumu in the Sissala East and Yagaba in the Mamprugu Moagduri; all within the USAID-GIAT Zone of Influence (ZOI). Under the theme: "Bringing quality certified seeds and other agro-input products to the doorsteps of farmers". The Seed and Inputs fairs afforded farmers within the respective locations and satellite communities to easily and timely access the best seeds and other inputs they required for the season.  The numerous input dealers who also registered for the event used the opportunity to educate farmers on their products and sold volumes of their seeds and inputs. The CEO of Farmer Pride remarked, "The district-level seed fair has proven to be the best for us input dealers and the farmers. You see from my table in the morning compared to now that I have sold all the things I brought to Tumu for exhibition and sales, and I have had more orders with cash already at hand. I am going to immediately send the seeds and the inputs the farmers have paid for to them through the next vehicle from Wa to Tumu. It is very exciting, and this event must be sustained. I can't wait for my members to be approved to contribute my bit to building NASTAG".
The 2022 district level Seeds and Inputs fairs were organized in collaboration and with funding support from the GIZ – Market Oriented Agriculture Programme (MOAP), African Fertilizer and Agribusiness Partnership (AFAP) project and the EUGAP with the National Plant Protection and Regulatory Services Directorate (PPRSD) of the Ministry of Food and Agriculture (MoFA) as host of the event at all four locations.
| | | |
| --- | --- | --- |
| Qualiseed Co Ltd rep. seriously promoting Vegetables seeds at the event | Antika Co. rep at his stand at the Fair | GIAT USAID NASTAG PM as the Mc for the event in Tumu |