Introduction
This report presents a concise overview of the activities undertaken by the Association during the period spanning from April to September, 2023. These activities align with the activity plan for the specified timeframe, derived from the four (4) pillars and twelve (12) strategic objectives that define NASTAG's mission and vision.  The information gives a summative account of the events during the second and third quarters of the year 2023 for the information of members.
2023 Annual General Meeting
The 7th Annual General Meeting of the Association was held at Silicon Hotel, Kentinkrono - Kumasi from the 24th to 25th of May, 2023. The 2 - half day event had Day one focused on the Association's standard AGM proceedings with presentations and discussions on agenda items to include reading of the Association's Audited Accounts for the year 2022, Executive Council Report 2022, Ratification of Appointed Auditors and Audit Fees, Election and induction into office, New Executive Council Members of the Association and NASTAG corporate presentation for the sake of new members who have joined. The new Members were also officially welcomed to the Association with a presentation of their certificates. 
As an extended Annual General Meeting (AGM), the subsequent days were dedicated to presentations and interactions designed to augment members' knowledge regarding advancements in the African seed sector, with a specific focus on developments related to Ghana. Key presentations encompassed topics such as "Biotechnology Developments in Africa" and the "Partnership between NASTAG and AFSTA for Disseminating Global Seed Sector Innovations." Additionally, a presentation centered on "Seed Packaging Materials in Ghana," highlighting the encouragement for NASTAG members to establish their unique packaging materials to distinguish themselves and foster a stronger farmer-seed source connection.
Following the Annual General Meeting (AGM), a brief inaugural Executive Committee (EC) meeting was organized, with Mr. Daniel Aghan representing AFTSA as an observer. Mr. Aghan, in his capacity, made a presentation on behalf of AFTSA and presided over the election of executive members. During this interaction, Mr. Aghan elucidated AFSTA's strategic initiatives in biotechnology and sought the executives' input on enhancing collaboration between AFSTA and NASTAG. It was collectively agreed that NASTAG would select and provide AFSTA with four youth members, who would undergo training as communicators for Biotechnology developments in Ghana.
Group picture of participants at the 2023 AGM 
Field Demonstrations
As part of NASTAG's objective to support members promote their seeds especially in communities/ district/ regions where their seeds have not penetrated and to ensure NASTAG members produce and supply the best quality of seeds to farmers, the period also witnessed a collaboration with members of the Association and other inputs providers to establish eight (8) demonstration fields of certified maize, cowpea, soyabean and groundnuts demonstration fields. This initiative aims to empower farmers by encouraging the adoption of superior seeds varieties, thereby augmenting crop yields, and elevating their overall livelihoods.
Initial visits to some selected fields suggest good performance of seeds donated by members to set up the demos /planting field days have performed substantially well.
Soon, Green and Brown Field Days will be announced and undertaken collaboratively with all stakeholders for our collective benefit.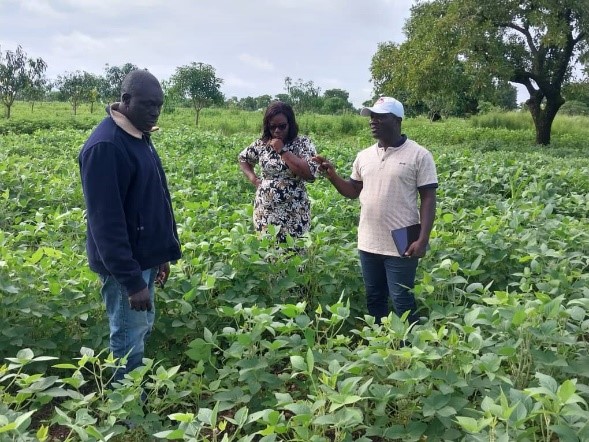 Project team interacting with lead farmer on a soyabean demo field at Bulenga during a monitoring visit
Radio Discussions
The annual radio discussion designed to raise awareness among Ghanaian farmers regarding the utilization of certified high-quality seeds and to impart knowledge concerning the merits and attributes of such seeds in various local dialects, was effectively executed during the period under review.
The radio sensitization campaign commenced on April 16th, 2023, and successfully concluded on June 6th, 2023, operating under the theme "Enhancing Certified Seed Usage at the Last Mile". Thirteen (13) radio stations, spanning across seven (7) regions were engaged in this year's sensitization programme.
Panelists were NASTAG members within the respective locations where the radio stations are located and who are fluent in the dialect to promote certified seeds and activities of the Association in serving farmers with the best seeds in Ghana.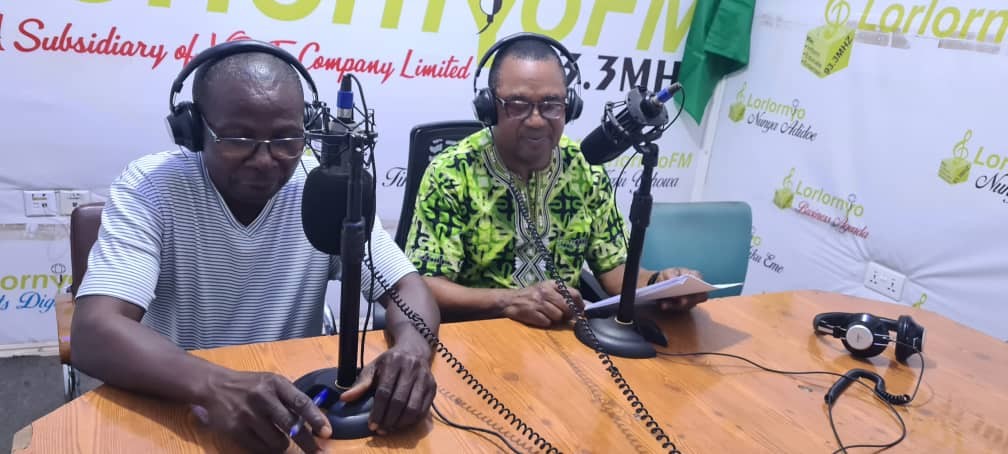 Discussants at Lorlornyo FM in Hohoe
PFJ payment and Seed Supply 2021 and 2022
In pursuit of achieving a meticulous financial closure, the Secretariat made a dedicated effort to actively engage with the Ministries of Food and Agriculture (MoFA) and Ministry of Finance (MoF) to facilitate the eventual disbursement of outstanding payments seeds supplied under the Governments initiative for the 2021 and 2022 campaigns and facilitated payments to Members who supplied directly under the initiative.
Executive Council Meeting
On Tuesday, July 12, 2023 an extra ordinary meeting was held comprising both the immediate past and current EC members. The joint meeting aimed at eliciting information and updates on strategic issues that the current EC should focus on.  A number of issues thereafter including the reconstitution of Sub – committee members of the EC, launch of the new strategic Plan, review Members Registration and dues, roll out of activities to benefit members directly etc were amongst issues discussed. The new EC looked forward to taking the Association to the next level to sustain its significant in the agricultural sector.
Internal Seed Quality Control Training
Ghana's seed sector has seen growth, but adoption of certified seeds remains low at 35-40%, mainly due to non-compliance and disregard for seed regulations. Inadequate knowledge on seed-related legislation and insufficient support structures have led to shortcuts that compromise seed quality, disrupt the value chain, and cause disputes and lost productivity. To address this, NASTAG in collaboration with MoFA-GSID, conducted two  training workshops on the  24th to the 25th of July, 2023 in Wa and Tamale respectively, supported by an MSR Activity grant, to educate stakeholders on seed sector laws and policies, emphasizing the need for a conducive agricultural environment.
A total of 87 participants, including seed producers, representatives, and certification officers, attended the training. The program covered various aspects of seed quality control, including seed outgrower selection, certified hybrid seed production, seed shelling and processing, receipt of seeds into the warehouse, sale and dispatch of seeds, and seed field inspection. Field observations and discussions reinforced the importance of adhering to quality standards. The training received positive feedback from participants, and certificates were awarded. NASTAG and PPRSD are committed to capacity building to enhance seed quality in Ghana's industry.
Project Manager taking participants through presentation on Records keeping 
Sensitization Workshop on the Seed Component of the Plants and Fertilizer Act 2010 (Act 803) and the Seed Certification and Standards Regulations Documents
The workshop represented a collaborative partnership between NASTAG and the Ghana Seed Inspection Division (GSID) on 28th and 30th August, 2023, in Wa and Tumu respectively.
The objective of the event was to equip stakeholders with a comprehensive understanding of the pertinent laws and policies that govern the agricultural domain.
A critical focus was to enhance comprehension and adherence to regulatory frameworks, ultimately to elevate the quality and reliability of seeds accessible to smallholder farmers across Ghana's agricultural landscape.
The workshop saw active participation from a diverse group of stakeholders, including representatives from seed companies, input dealers, farmer groups, and other pertinent entities within the agricultural sphere. It provided in-depth insights into crucial areas such as Seed Policies, Seed Certification, and Standards Regulations. It further elucidated the roles and responsibilities of value chain actors in ensuring the provision of high-quality seeds to smallholder farmers; raising awareness among various stakeholders to foster compliance with regulations governing the sector.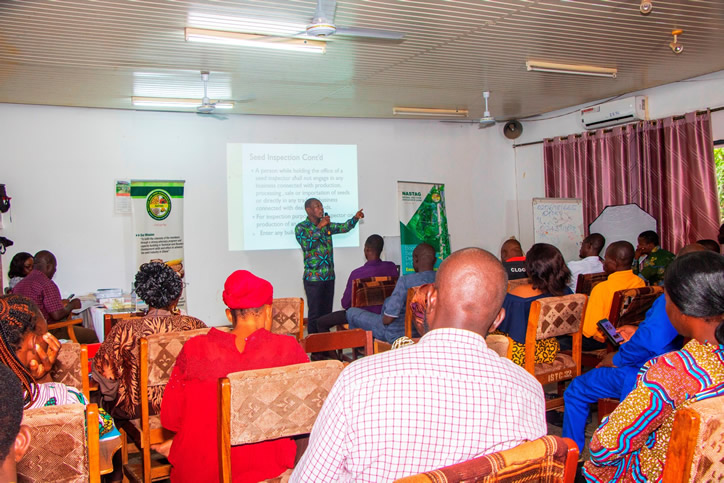 Mr. Charles Appiah – Nti, GSID making a presentation at the Sensitization workshop.
Webinar on Seed Packaging: What does the law says?
On August 17, 2023, the National Seed Trade Association of Ghana (NASTAG) conducted a successful virtual Zoom webinar moderated by Dr. Amos Rutherford Azinu, NASTAG's President, with Mr. Kwasi Wih, Head of GSID, as the expert speaker. The webinar focused on Seed Certification and Standards Regulation L.I 2363, specifically seed packaging materials. Dr. Azinu emphasized adherence to regulatory standards for seed quality and industry trust, while Mr. Wih provided a comprehensive overview of relevant legal provisions. An interactive Q&A session facilitated discussion of industry challenges, making it a valuable knowledge-sharing platform with over 70 participants, highlighting the importance of regulatory compliance in Ghana's seed trade sector.
Webinar on Genome Editing:
On September 25, 2023, the National Seed Trade Association of Ghana, in collaboration with the AFSTA organized a webinar on genome editing via Zoom. The webinar served as a pivotal platform for disseminating essential knowledge and fostering dialogue surrounding the intricate domain of genome editing. Participants gained valuable insights into the latest advancements, ethical considerations, and regulatory aspects of genome editing in the seed industry. This collaborative endeavor underscored the commitment of both organizations to promote informed discussions and propel the Ghanaian seed sector towards innovative and responsible practices in genetic research and modification.
Participation in the Review and validation of Guidelines on Gene Editing and Gene Stacks.
On September 11, 2023, the National Biosafety Authority (NBA) hosted a crucial Stakeholder Review and Validation Meeting at the Mensvic Grand Hotel in East Legon, Ghana. NASTAG representatives were instrumental in finalizing the National Guidelines on Genome Editing and GM Stacks; a document of great significance to genetic research and biotechnology in Ghana. NASTAG was represented by Mrs. Augusta Nyamadi Clottey and Mr. Kweku Adoko Mensa Turkson. Intensive discussions and presentations resulted in unanimous agreement among stakeholders on the necessity of proposed recommendations and changes to ensure the guidelines' effectiveness and comprehensiveness. This milestone demonstrated collaboration and responsibility in genetic research and modification, offering a promising future for Ghana.
NASTAG signs commitment with Health Strategy and Delivery Foundtion (HSDF).
Under the USAID - Connect and Learn for Sustainable Associations (CLOSA) Project has officially signed a Letter of Commitment with NASTAG, affirming its commitment to provide the necessary technical assistance to enhance capacities for effective Association management and governance. Based on a preliminary assessment NASTAG requires support to mobilize more resources, engage its members effectively, review standard operational policies, improve its existing structures and develop business plans to create aneffective strategy for growth from its existing strategic plan in line with its medium to long term goals. In this regard CLOSA has committed to the provision of the technical assistance required through the engagement of its experts, learning events, mentoring and coaching to meet NASTAG's expectation.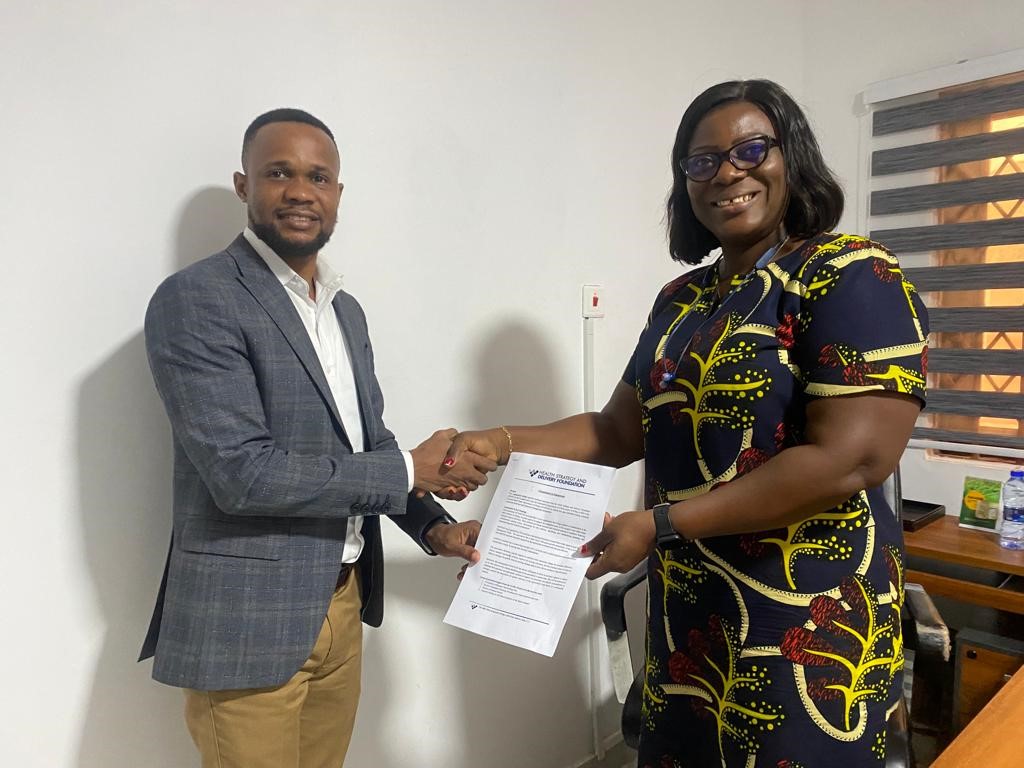 CEO of NASTAG and CLOSA Representative Displaying Signed Agreement
Engagement of a Volunteer from Catalyst+ to support NASTAG identify strategies towards financial sustainability.
During the third quarter, NASTAG welcomed a volunteer from Catalyste+ for a period of three (3) weeks. His primary mandate was to exercise vigilant oversight over the Association's operations and provide expert counsel aimed at bolstering our financial capacities. It is worth emphasizing that, in recognition of this invaluable resource, the Association made a financial contribution of $200 to cover expenses associated with the volunteer's stay.
Even though the expectations were not fully me because of the unique nature of the seed association to the expert recruited by catalyst+, the relationship established with the Catalyst+ seeks to facilitate the process for individual companies within the Association to request for technical expertise to support their respective activities for growth.
Other Preliminary Discussions Initiated within the Period:
CABI – Development of Crop Varietal Descriptors
USAID - GTI Possible collaboration for project implementation
CoRAF – Capacity Building of Seed Entrepreneurs
KOSMOS Innovation Centre – To set up demonstrations to promote members seeds.
Honouring our Hero (NASTAG joined the Public to Mourn the National Seed Council Chair)
On July 22, 2023, the President, along with several distinguished members of the Association, participated in a solemn gathering to commemorate the concluding funeral rites of the late Mr. Josiah Wobil, former Chairman of the National Seed Council (NSC), in Winneba, located in the Central Region. This event served as a mark of respect and remembrance for his significant contributions to the seed industry and the NSC.
April to September 2023 - Some Meetings and workshops attended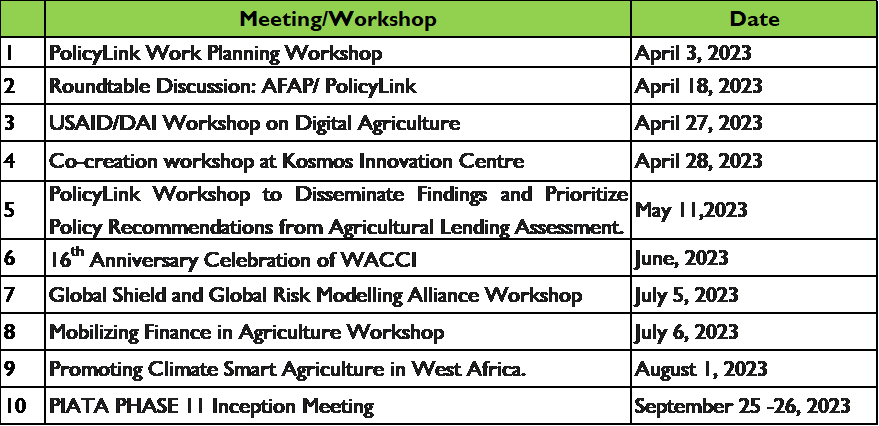 ACTIVITIES LINED-UP FOR THE QUARTER 4, 2023
Successfully signed a three-year Project contract with AGRA and initiate activities implementation
Host the 4th Annual Seed Business and Networking Forum
Carry out Green and Brown Field days on Demonstration fields set up with NASTAG members
Enhance NASTAG visibility through social media event
Facilitate two (2) webinars on Seed Sector related issues to benefit members and enhance general public knowledge on NASTAG
Conduct training on Seed Quality Control Management for Internal Quality Control Managers to provide quality services to NASTAG members
Conduct training on hybrid seed production for members' out growers to enable them to produce high quality certified seeds.
Visit Members across the country to solicit information to enhance service delivery to members
Develop and share a comprehensive 2024 workplan and share with EC for approval.
Recruitment of sub-grantees for joint implementation of AGRA GIAT Phase II