CEO, Yonifah Seeds Company Limited; President, National Seed Trade Association of Ghana (NASTAG)
Member, Ghana Seed Council; and Member, Ghana National Varietal Release and Registration Committee
"Coming together is the beginning. Keeping together is progress. Working together is success." This quote by Henry Ford was one of his favorite quotes. He mostly will begin his speech, conversation or discussion pertaining to life, family, business etc. with this quote.
As a seed person operating a seed company specialized in the production of Cowpea, Okra and Maize certified seed in a small village – Dedukorpe in the Volta Region of Ghana, Thomas believed so much in fostering synergies that will help advance the seed business in Ghana and Africa as a whole. His whole life was dedicated to ensuring a vibrant Seed Sector in Ghana led by the Private Sector.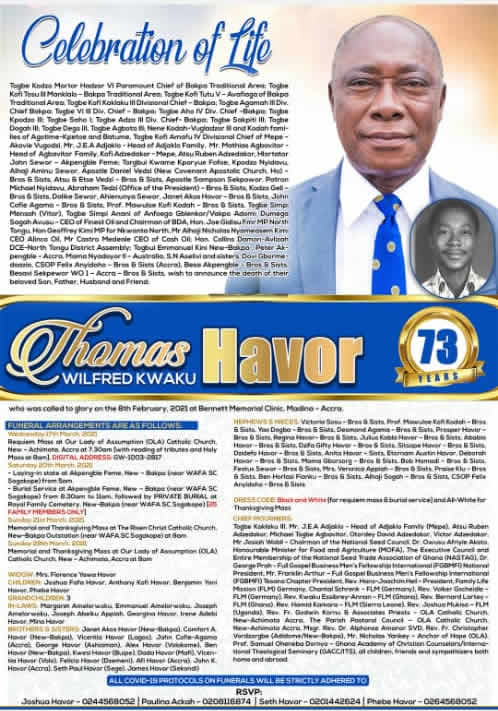 This he achieved by helping set up the National Seed Trade Association of Ghana (NASTAG) in February 2016 with support from Mr. William Kotey, Mr. Kwabena Adu Gyamfi and Ms. Felicia Nyantakyi Owusu. His enthusiasm, support and level of energy even with his age was something we all cherished as a young Association. He was always ready when called upon to discuss issues pertaining to the seed sector in Ghana. His dedicated service to the sector earned him positions on the National Varietal Registration & Release Committee (NVRRC) and the National Seed Council (NSC) amongst others.
The news of his demise on that fateful Monday, February 8, 2021 did not only come as a surprise but also a big blow to all stakeholders, family and friends. We know that, although it is difficult today to see beyond sorrow and pain, looking back in memory helps comfort us for the numerous encounters we had with Thomas especially with regards to seeds.
Today we are embracing pain in order to burn it as fuel to propel us ensure that the seed sector in Ghana is as vibrant as ever. You shall surely be missed, our father, friend and colleague.
Rest well Thomas … Till we meet again in a place called Heaven!!!